ALPHA & OMEGA'S
GERMSTOP SERVICES
GERMSTOP TREATS TOUCHPOINTS WITH A SINGLE APPLICATION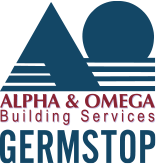 PROTECT YOUR WORKPLACE FOR 30 DAYS WITH GERMSTOP™
by applying every 30 days!
As the leader in cleaning and disinfection services, we are proud to introduce antimicrobials into our family of services.
How does GermStop work? Our certified trained technicians come to your facility and provide a misted coating of the SabreTechQS technology antimicrobial to your high touch surfaces.
The active ingredient forms a colorless, odorless polymer that is chemically bonded to the surface, yet undetectable to the touch. This layer attracts and punctures the walls of the harmful microbes… stopping germs in their tracks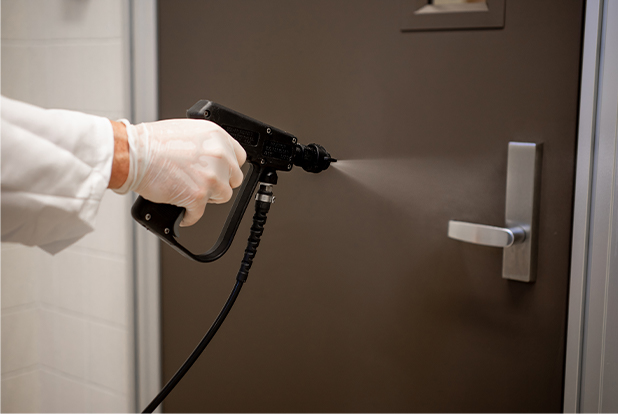 DISINFECTION VS. GERMSTOP
Traditional disinfection kills germs immediately but that's where it ends. Surfaces can be contaminated again with the very next touch or cough. GermStop with Antimicrobial technology protects surfaces from harmful microbes with no need to reapply for 30 days. Regularly scheduled routine cleaning and disinfecting procedures should continue and will not impact GermStops ability to continue working between applications.
BOTTOM LINE:
BOTTOM LINE: THE TREATED SURFACE IS PROTECTED 
WITH NO NEED TO REAPPLY FOR
30 DAYS.
* EPA REGISTRATION NO 92057-G SABRETECH QS . PUBLISHED INDEPENDENT STUDIES CONCLUDE THE EFFECTIVENESS OF THIS BACTERIAL STATIC FINISH AGAINST (odor-causing) bacteria, fungi, algae, mold, and mildew.


READY TO SHINE?
LET's get to work